This is the research website for the Guildford Union Workhouse, Guildford War Hospital, Warren Road Hospital and St Luke's Hospital. – Click on recent posts to find out our latest news…………
Welcome to 2015 – St Luke's Hospital Project at the Spike!
We are now planning events at the Spike for the year ahead and looking forward to meeting friends and new visitors during 2015.
JULY EVENTS ARE ON THE WAY…………….
We are baking for this and hope that the weather will do the same!  If you are free to help, cook or just come along for the fun, here is everything you need to know…..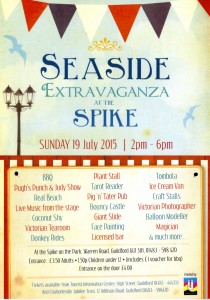 BBQ, Punch & Judy, Real Beach, Live Music, Coconut Shy, Victorian Tea Room, Donkey Rides, Plant Stall, Tarot Reader, Pub, Bouncy Castle, Giant Slide, Facepainting, Licensed Bar, Tombola, Ice Creams, Craft Stalls, Victorian Photographer, Balloon Modeler, Magician and much more………£3.50 for adults and £1.50 for children and everyone gets a free £1.00 voucher for the BBQ
DUNKIRK REMEMBERED……
..
The mass evacuation, code named Operation Dynamo, is remembered in the news this month, 75 years on from that momentous event.  The hospital at Warren Road played an important role as a 'transit' hospital for the short-term treatment of casualties evacuated from Dunkirk. The car park became a sea of stretchers with wounded soldiers laying end to end, waiting to be admitted to a ward.
This is an extract from an article written in 1955 by Brigit Coyle who was working as a ward sister at the time……….
"In 1940, at fifteen hours' notice, we had to admit 700 casualties from Dunkirk, and every available space in the annex, main hospital and the House, was packed with beds to meet this crisis. The terrible burns received by some of those boys who had been rescued from a sea of burning oil, and who remained with us for many months, are still a ghastly memory."
 NEW RESEARCH PROJECT – GUILDFORD'S SCATTERED HOMES
A class of boys at the Central School, Guildford 1901. The scattered homes were 'distributed' across the town so that no more than 12 children attended any on of the local schools.
From 1903, orphans and needy children, often with parents in the workhouse, were separately housed with 'Foster Mothers' in residential properties around Guildford.   In fact there were seldom more than 12 children, either all boys or all girls (from the ages of 4 to 14 yrs) in each house.  This segregation led to families being further separated by age and sex of siblings. The houses were overseen by the Board of Guardians and under the day to day control of the Master of the Workhouse who employed a Superintendent and Matron as well as relief Foster Mothers. The administration was based at the Warren Road Receiving Home adjacent to the Workhouse, later known as the Homestead.Properties were rented on the corner of Addison and Cooper Road, in Woodbridge Road, Springfield Road off York Road, Recreation Road and two other homes that we are currently trying to locate.
We would be very interested to hear from anyone with a family connection or knowledge of children who were looked after in these homes.  Some children were sent to Canada, or to sail-training ships and industrial schools.  There are some fascinating life histories to uncover and we would be delighted to welcome any fellow researchers who have an interest in this field.  Recently, Radio 4 broadcast a programme on Scattered Homes and we hope to give this topic a local perspective.
Please contact our researcher Liz Lloyd on ealloyd@uk.net for more information!
REMEMBERING THE BETATRON 1965-2015 – 50 years on…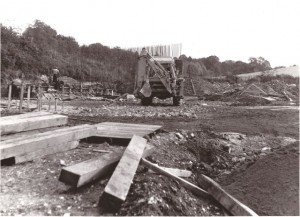 THIS YEAR'S 75th ANNIVERSARY..more interesting facts from our archive
January 2015 marks the 75th ANNIVERSARY of Guildford Union Workhouse changeover to a local authority hospital.  On 1st January 1930 the Guildford Institution was renamed Warren Road Hospital and on 1 April that year its management passed from the Ministry of Health to the Public Assistance Committee of Surrey County Council. So, 94 years after being founded the Institution changed emphasis from managing the poor/destitute to providing medical care for both the local community and the poor.
The Local Government Act 1929 did away with the old Institution but was this really the end of the Workhouse?
Under the Act Surrey County Council took over the employment of 950 Poor Law Officers, 35 Road Officers and 828 workmen across the county. Its review of the Guildford Institution states that there were175 beds for hospital in-patients and, interestingly, accommodation for 253 inmates who were still in need of support. Vagrants or tramps were still in need of shelter, with an average of 33 sleeping in the Spike each night. The Institution, including the Master and Matron, employed 79 staff.
After 1930, it is fair to say that change was only piecemeal. Some dormitories were still converted into wards, despite a 1933 report that the Institution was "incapable of adaptation" to a hospital. The hospital staff consisted of one resident and one assistant Medical Officer, a Superintendent Nurse, 6 Sisters and 24 Probationary Nurses.
Miss Brigit Coyle, (who joined the staff in 1930) recalled: "In 1933 I became Night Sister. Being the only trained person on duty, I was responsible for the supervision of the general wards, the deliveries in a 10 bedded maternity ward and the night theatre work……on coming off duty in the morning I would often give a lecture to the nurses as in those days we had no sister tutor. My off duty was four nights a month, all taken together.  I can recall a period of ten weeks when I had to work without any off duty."
Phil Davie has been finding out more about the naming of St Luke's Hospital. (Click on the heading above to see the full article.)
                                     VISIT OUR EXHIBITION AT  THE SPIKE: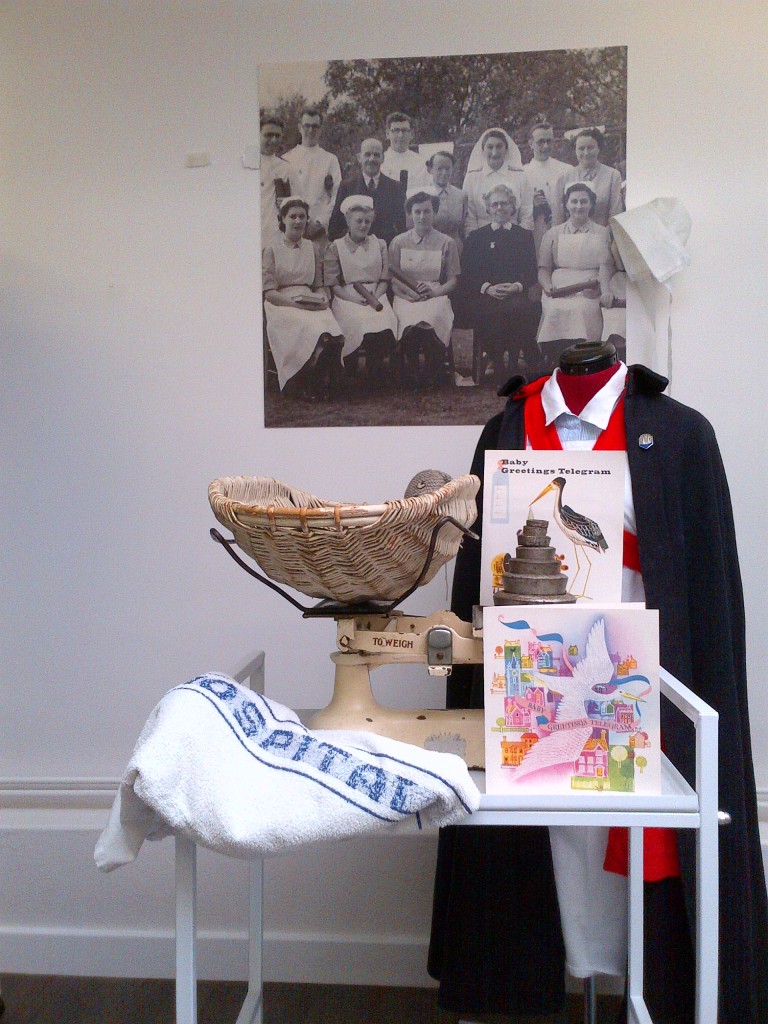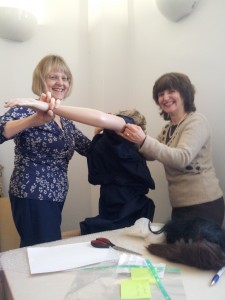 Take a peep behind the scenes here.
FOR A FULL APPRECIATION OF OUR RESEARCH, CLICK ON 'ARCHIVES' AND AT THE BOTTOM OF THE PAGE, CLICK ON 'OLDER POSTS' . Or use the search facility, of course!
Copyright: Charlotteville Jubilee Trust 2013/2014