This is the research website of the Guildford Union Workhouse, Guildford War Hospital, Warren Road Hospital and St Luke's Hospital. – Click on recent posts to find out our latest news…………
We had intended to visit the National Trust's Clandon Park just outside Guildford – only to discover it had recently burnt down. This was a last minute change of plan but we were so glad we went. It gave a fascinating and at times shocking perspective on life at the other end of the social spectrum. Our guide was superb – knowledgeable and interesting. The short mini-drama on DVD was a little masterpiece – well scripted and acted. We wished it lasted longer and wanted to find out what happened to the characters portrayed. This is a must see if you're in the area.  A big 'thank you' to our superb tour guides Gordon and Dennis for making this visit a really special one! This was the result of a visit in June 2015, but if our guests had visited in June 1940, what would they have seen?
June 1940 – DUNKIRK REMEMBERED……
..
The mass evacuation, code named Operation Dynamo, is remembered in the news this month, 75 years on from that momentous event.  The hospital at Warren Road played an important role as a 'transit' hospital for the short-term treatment of casualties evacuated from Dunkirk. The car park became a sea of stretchers with wounded soldiers laying end to end, waiting to be admitted to a ward.
This is an extract from an article written in 1955 by Brigit Coyle who was working as a ward sister at the time……….
"In 1940, at fifteen hours' notice, we had to admit 700 casualties from Dunkirk, and every available space in the annex, main hospital and the House, was packed with beds to meet this crisis. The terrible burns received by some of those boys who had been rescued from a sea of burning oil, and who remained with us for many months, are still a ghastly memory."
NEW RESEARCH PROJECT – GUILDFORD'S SCATTERED HOMES
A class of boys at the Central School, Guildford 1901. The scattered homes were 'distributed' across the town so that no more than 12 children attended any of of the local schools.
From 1903, orphans and needy children, often with parents in the workhouse, were separately housed with 'Foster Mothers' in residential properties around Guildford.   In fact there were seldom more than 12 children, either all boys or all girls (from the ages of 4 to 14 yrs) in each house.  This segregation led to families being further separated by age and sex of siblings. The houses were overseen by the Board of Guardians and under the day to day control of the Master of the Workhouse who employed a Superintendent and Matron as well as relief Foster Mothers. The administration was based at the Warren Road Receiving Home adjacent to the Workhouse, later known as the Homestead. Properties were rented on the corner of Addison and Cooper Road, in Woodbridge Road, Springfield Road off York Road, Recreation Road and two other homes that we are currently trying to locate.
We would be very interested to hear from anyone with a family connection or knowledge of children who were looked after in these homes.  Some children were sent to Canada, or to sail-training ships and industrial schools.  There are some fascinating life histories to uncover and we would be delighted to welcome any fellow researchers who have an interest in this field.  Recently, Radio 4 broadcast a programme on Scattered Homes and we hope to give this topic a local perspective.
Please contact our researcher Liz Lloyd on ealloyd@uk2.net for more information!
 ….now and back to our Exhibition – still going strong for another season at the Spike……………..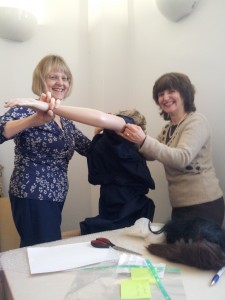 (Take a peep behind the scenes here.)
FOR A FULL APPRECIATION OF OUR RESEARCH, CLICK ON 'ARCHIVES' above AND AT THE BOTTOM OF THE PAGE, CLICK ON 'OLDER POSTS' . Or use the search facility, of course!
Copyright: Charlotteville Jubilee Trust 2014/2015