This is the research website for the Guildford Union Workhouse, Guildford War Hospital, Warren Road Hospital and St Luke's Hospital. – Click on recent posts to find out our latest news…………
A NEW PAINTING FOR THE SPIKE
Unveiled at November's AGM of the Charlotteville Jubilee Trust, this stunning painting is by local artist Nathalie Beauvillain Scott, entitled "Charlotteville, Back to the Future".   With the artist's incredible attention to detail, life inside the walls of the Guildford Union Workhouse leads the viewer into the future of Charlotteville and Guildford town.  Workhouse Matron Mathilde Williams watches through time as 11 year old Ron Durbridge* challenges his chums to a kickabout in Addison Road. A charabanc sets off with residents bound for the coast while a lonely vagrant breaks stones to pay for his keep.
Funded through an S106 agreement by Guildford Borough Council, the painting depicts a community that has thrived through time and will be on view at the Spike, and displayed at public events by arrangement.  For further information call the Charlotteville Jubilee Trust on 01483 598420.
*Ron Durbridge lost his life on Saturday 29th March 1941 and is mentioned, along with many others, on the Charlotteville War Memorial in Addison Road.      
DAVID ROSE LAUNCHES HIS NEW BOOK AT THE GUILDFORD INSTITUTE   
 Great War Britain – Guildford – remembering 1914-18 by David Rose
David launched his new book at the Guildford Institute on 26th November. As well as signing copies, David also treated us to a talk about the life of the town over the period of the Great War. Recruitment marches, the 7000 army lorries made by Dennis Motors and the bomb dropping Zeppelin all added to a fascinating glimpse into the past.  Thanks to the meticulous research of David and others, new names have been added to Guildford's War Memorial, bringing the total to 500, although the view is that the list is still incomplete.  This loss of life must have touched everyone in a town where in 1914 the total population was 20,000, about the size of Godalming today.
Guildford War Hospital at Warren Road is mentioned in the book, including the work of its commandant Lt Col Powell and his wife who set up a smaller hospital for officers at their home, Piccards Rough in Sandy Lane, St. Catherine's. If you want to find out more about  the hospital in WW1, just click on the archive tab above.
David's book is available from David Rose on 01483 838960 or on sale at the Guildford Institute, all good book shops, www.thehistorypress.co.uk and direct sales on 01235 465500.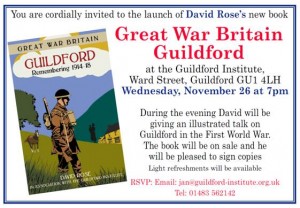 VISIT OUR EXHIBITION AT  THE SPIKE: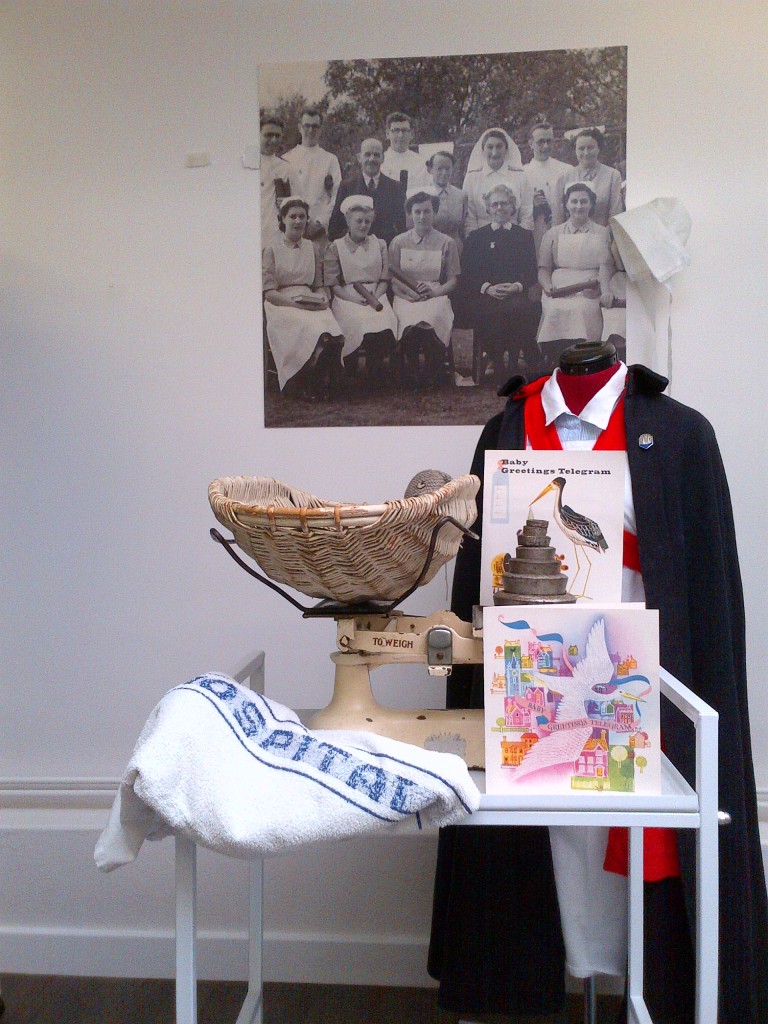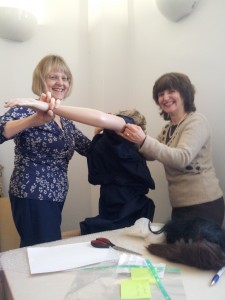 Take a peep behind the scenes here.
FOR A FULL APPRECIATION OF OUR RESEARCH, CLICK ON 'ARCHIVES' AND AT THE BOTTOM OF THE PAGE, CLICK ON 'OLDER POSTS' . Or use the search facility, of course!
Copyright: Charlotteville Jubilee Trust 2013/2014