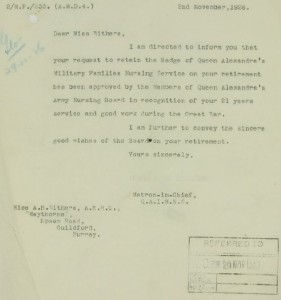 When Guildford War Hospital was established in Warren Road in 1916, its first Matron was Agnes Harriett Withers. Miss Withers who was 40 at this time, had been born in Somerset, the daughter of a dairyman, and trained as a nurse at the General Infirmary and Gloucester Eye Institute. On completing her training she continued to work in Gloucester as a Staff Nurse before moving to Brighton Hospital for Women as a Sister Midwife from 1901 until 1904. After a year in charge of a private medical and surgical Home in Ipswich, Agnes was interviewed to join Queen Alexandra's Imperial Military Nursing Service. She was recommended for a position at Louise Margaret Hospital in Aldershot and a year later she moved to the Military Family Hospital in Curragh. In 1911 her breadth of experience was rewarded by appointment as matron at Shorncliffe Military Families Hospital in Folkestone.
Towards the end of 1913 the QAIMNS Reserve was prepared, ready for the event of war. Agnes Withers was one of only 300 trained nurses in the Reserve, although by 1919 it was made up of 10,404 fully trained staff. In September 1914, Miss Withers was told to prepare herself for travel to Malta but this was cancelled and she remained at Shorncliffe Hospital until her appointment as matron in Guildford on June 10th 1916. Agnes worked at Guildford war Hospital for 13 months before being posted to Salonika via France on July 26th 1917. Her duties establishing the Military Hospital at Guildford were recognised by the Royal Red Cross Second Class awarded to her by the King in April 1917 and she retained a link with Guildford, having her post sent to the Williamson sisters who lived in Epsom Road, Guildford.
Agnes continued as Matron in Salonika until the end of the war, receiving the Greek medal for Military Merit before being posted to Malta as Sister-in-Charge. When she left Salonika in 1919 she was given a glowing report by Lieut-Col. Gates, the Officer in Charge. He said that Miss Withers was, "of even and cheerful disposition and displayed great energy and zeal for the welfare and nursing of the sick and wounded. Her tact and high standard of conduct have made her respected and liked by the whole staff of the hospital." He added that she was, "A good organiser and manager who obtains the best work from her staff with the minimum of friction. Her determination and personality make her thoroughly capable of managing a large staff."
In 1922 Agnes was finally allowed to return to England for a long leave which she spent with the Williamson sisters in Guildford before starting work at Chatham Military Families Hospital. She was probably relieved to return to Louise Margaret Hospital in Aldershot in 1924, where she worked until her retirement in 1926. She obviously continued to enjoy travelling as during her retirement Miss Withers can be found on the passenger list of ships to Gibraltar and Port Said and she also visited Switzerland. Her residence from 1922 until at least 1945 was in Guildford and when she died in 1952 her funeral service was at Woking Crematorium.