How St Luke's got its Name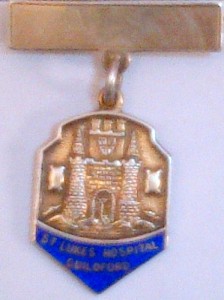 "T'was Christmas day in the Workhouse and the cold bare walls are bright, with garlands of green and holly, and the place is a pleasant sight …" wrote George R Simms in his famous monologue.
He must have known that in Christmas 1944 the Mayor would pay his annual short visit to the site. His visit was "much appreciated by staff, patients and inmates", or so the Surrey Advertiser reported on 29th December 1944 in an article entitled "Warren Road Institution". Like the monologue it also went on with expressions to the effect that the wards of the hospital were tastefully decorated. However Rev WAE Austen, Chairman, Surrey County Council Public Health Committee, took exception to this report and responded in a "Letter to the Editor" publish on 13th January 1945.
In this he pointed out that the "… whole emphasis [of the article was] on the word 'Institution' [and the]… curious idea that because Warren Road was once a workhouse it had no right to be regarded as a hospital". Also "By a further curious mental process it is assumed …. that for some mysterious reason the hospital must be of the sort to which one would only go if he or she could help it". He then went on to list the many improvements made to the Hospital over the last six years since it became a Public Health Hospital (i.e. managed by his Public Health Committee) and that further expansion of the Hospital had been postponed by wartime conditions. He concluded "Warren Road [Hospital] is, in fact, an acute general hospital and last year admitted some 6000 patients, a very large majority were acute cases".
The Surrey Advertiser responded by printing, in the same edition, a short article expressing the hope that "… the County Council will renew its efforts to find a more suitable name for the hospital. Until they succeed 'Warren Road' and the 'Poor Law' of unblessed memory will be inseparable … for Surry folk. Evidence of this comes to the notice of the 'Surrey Advertiser' repeatedly."
This hope was discussed by the Guildford Hospital Sub-Committee at a meeting on 1 February 1945. The minutes record that "The Chairman of the Public Health Committee suggested that as the Hospital was in the Parish of St Luke's, Guildford, the Hospital should be renamed 'St Luke's Hospital', Guildford." The minutes also record that "The Sub-Committee do authorise the renaming of Warren Road Hospital as 'St Luke's Hospital', Guildford".
Remarkably the change took place very quickly. So, from 1 April 1945, the hospital became St Luke's Hospital Guildford.
While the original corrugated iron church was later demolished it is remembered in the name of the hospital that continues to play a large role in our community.
Phil Davie, January 2015