Click here to see Florence Desmond performing with George Fornby:Florence Desmond 'Riding around on a Rainbow
Florence Desmond
The name "Florence Desmond" may be familiar to those who have attended the Florence Desmond Day Unit at the Royal Surrey County Hospital but not so many people will remember her for her acting talent during the first half of the twentieth century.
Born above her father's cobbler's shop in Islington in 1905, Florence Desmond was performing on stage as a dancer from the age of 10. She later became known as a singer and comic actress and as an excellent impersonator of famous actresses such as Bette Davis, Marlene Dietrich and Greta Garbo. In her obituary in the Independent in January 1993 she was described as, "Not only the best impersonator of her generation, but by far the best." She demonstrated a satirical talent without any cruelty to the people she mimicked.
In 1928 Florence performed in, "The year of Grace," a revue written by Noel Coward and she accompanied the production to New York where she danced with him. She was to take New York by storm 18 years later at the, "Blue Angel," night club with her witty and accurate impressions of Hollywood stars using minimal props. Miss Desmond participated in the Royal Variety performances in 1937 and 1951 and she was the leading lady in two films starring George Formby. Mr. Formby called her, "an inimitable comedienne." Florence also acted with Gracie Fields and frequently starred in pantomime as a principal boy.
In 1935 Florence married Tom Campbell Black, an aviator, but she was heartbroken a year later when her husband died at Speke Airport in Liverpool after his plane struck an RAF plane on the ground. Her second husband, Charles Hughesdon, was also an aviator and in 1937 they set up home together at Dunsborough Park in Ripley. During the Second World War Florence toured army camps with ENSA. Her peaceful post war life was upset by a daring robbery. Luckily Florence and her husband were away from home and the household staff disturbed the burglars, but not before they had stolen a mink coat and stole.
In 1963, Florence Desmond began fundraising for the purchase of a Betatron electron therapy unit to be installed at St Luke's Hospital in Guildford. She stated that, "If Betatron had been available, cancer might not have killed my beloved father." The Betatron, made in Switzerland, the first of its type in the UK, was used to treat primary malignant cancer. £200,000 was required, of which Miss Desmond personally contributed £9,000. Fundraising events included Hospital Fetes, coffee mornings and children laying pennies the length of the High Street. The climax of the fundraising was a Royal Gala on the stage of the Odeon in Guildford in October 1964, attended by Princess Alexandra and her husband Hon. Angus Ogilvie, with performances by Vera Lynn and Max Bygraves.
The Betatron was officially opened at St Luke's Hospital on May 3rd 1967 and the occasion included a Luncheon with Consomme Alexandra, Salmon Betatron and Fillet of Beef Desmond on the menu. The Betatron remained in service at St Luke's Hospital for 22 years. A ward at St Luke's was named Desmond Ward in recognition of her considerable achievement. Florence Desmond spent her retirement at Dunsborough Park, enjoying the attractive gardens and the farm where she was once pictured in the Evening Telegraph with her sow and 10 piglets. She died in Guildford on January 16th 1993 at the age of 87.
Florence Desmond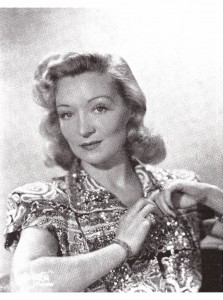 Staff at Christmas 1967, Florence Desmond Ward, St Luke's Hospital