"I have something a bit special for your collection" he said, keeping his hand in his left coat pocket.  "Can you guess what it is?"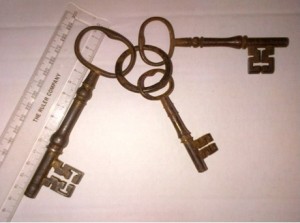 This is a bunch of old keys with a story.  The two smaller keys had been saved by a carpenter at the hospital who worked in what is now the education room, in the 1970's.  He kept them because they were just lying around and would doubtless have ended up in the skip.
The large key was saved from being thrown away in the late fifties. The gentleman who saved it is now 90 years old and passed the key on after a chance conversation in the pub about the St Luke's Hospital Heritage project.
He noticed the key because it is a lovely thing. (He also reportedly said that he would have taken the lock it was in as well, if he'd had the right screwdriver with him!) The key and lock were in one of the doors in the cell block of the Spike.
The keys have now been returned to the Spike Heritage Centre and have since been dated to pre-1840s! Could they be the original workhouse keys?
(J Thomson)